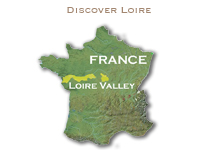 I just finished a week trying some Loire Valley wines with fellow members of the wine board WineBerserkers.com. This was a virtual tasting. Board members around the country tried their Loire Valley wines during a one week period and wrote about them online.
If you want to increase your odds of buying wines that you will enjoy, get to know your local retailer and let them get to know you. Once he knows your tastes and budget, he should be able to help you navigate your options. If not, find another retailer. I didn't know much about Loire Valley wines and had to go shopping to be able to participate in the tasting. On the recommendation of a staff member at Paul Marcus Wines (Oakland), I bought a Cab Franc (my 83 points), a "dry" Chenin Blanc (flawed), a Sauvignon Blanc (my 78 pts), and a sparkling wine — a very generalized sampling of the wines of the Loire. I'd never shopped at Paul Marcus so as a result, the staffer, who wanted to be helpful, didn't know me and was just guessing on what I might like. Unfortunately, his guesses didn't pan out.
Here is the third tasting note:
2007 Domaine Deletang Montlouis-sur-Loire Sec Les Batisses – France, Loire Valley, Touraine, Montlouis-sur-Loire (2/25/2010) Lemon furniture polish and watermelon bubblegum. Also a bit maderized. I originally panned this wine with a below average score but have thought more about that oxidation. Perhaps a damaged bottle. NR (flawed)
Posted from CellarTracker on GrapeStories.com
To say the Loire wines did not immediately sweep me off my feet would be an understatement. However, since they are relatively inexpensive, we can afford another date. I'll need to retry the Cab Franc (2004 Clos Rougeard (Foucault) Saumur-Champigny) as apparently I didn't give it enough air and it needed more cellar time. I was also expecting a bigger wine with more robust flavors. Apparently that was a false expectation. It would have been helpful if that salesman had made some serving recommendations along with the wine recommendations.
While Loire Valley wines are, in my opinion, under-the-radar of the general U.S. wine drinking public, they are popular and considered distinctive and a good value by wine enthusiasts. I won't write them off as I am apparently missing something with this very limited exploration. As with any new wine region, the advice is to keep drinking. I still have to try that sparkler. I've got my fingers crossed.