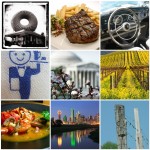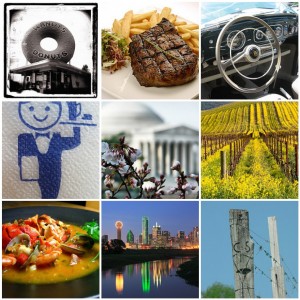 Tell your wine life story in pictures. I've started with the mosaic to the left. You can create one and upload it directly to our Facebook Page.
Instructions:
a. Type your answer to each of the questions below into Flickr Search (http://www.flickr.com/).
b. From the pages of search results, pick an image. You may choose to be literal or rather esoteric.
c. Copy and paste each of the URLs for the images (the thumbnail image location) into Mosaic Maker. Change rows to 3 and columns to 3 (http://bighugelabs.com/flickr/mosaic.php).
d. Save the image to your hard drive and upload it directly to our Facebook Page.
Note: if you upload the photo to Facebook yourself, it will not be anonymous. If I do it, I will leave out all names.
1. What is your first name?
2. What is your favorite red wine pairing?
3. What is the vintage year of the oldest bottle of wine you own?
4. Where were you when you first experienced your wine drinking epiphany? The place or situation where you realized wine was more than just a liquid to quench your thirst?
5. What is the first and/or last name of the person living or dead with whom you'd like to share a special bottle?
6. What is your favorite wine growing region?
7. What is your favorite pairing with white wine?
8. Where were you born (city, state, country, anyplace)?
9. What is your favorite wine varietal?