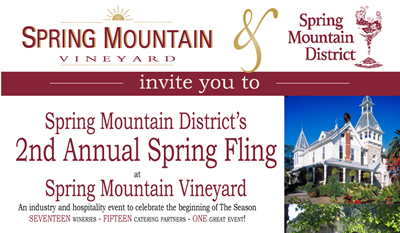 On Wednesday, Sasha and I headed up Spring Mountain for their second annual Spring Fling, a chance to taste some great wines from the Spring Mountain District as well as try some yummy nibbles from Napa Valley restaurants and caterers.
The wines were great.  As is my habit at this type of event, I didn't do complete tasting notes, but I did jot down the names of wines that I feel are worth remembering — wines that are worth balancing a wine glass and an appetizer, and then trying to pull out a pen and scratch paper in order to remember the highlights.  While all the wines I list are recommended, the number of asterisks indicate the relative strength of my recommendation.
2008 Fantesca Sonoma Coast Chardonnay ** – Sonoma Coast??  Not Spring Mountain, but a nicely done Chardonnay, exhibiting little oak and malo and a refreshing steely character.
2007 Sherwin Estate Cabernet Sauvignon – big, bold, and layers of fruit.  It's rich but perhaps a little too rich?
2008 Paloma Merlot ** – I liked the restraint on this wine. While still offering enjoyment now, this is a Merlot that will age nicely
2008 Pride Cabernet Franc * – Pride still does wine that is proud of its ripeness, but they kept their foot off the throttle enough on this one to bring out the charms of Cab Franc.  I tried a couple of other Cab Francs at this tasting and they were overdone.  Not so with Pride.
2007 Andesite Mervignon **** – Holy Cow!  Where did this wine come from?  I'd never heard of this extremely small production blend of Merlot and Cab Sauv with a bit of Cab Franc thrown in but this was the wine of the tasting.  So subtle, so light on its feet, and yet so interesting.  The next day I ordered six bottles of this $48 wine.
Match Vineyards is not yet a member of Spring Mountain District association but I'm thinking we should join.  Baconbrook should fit right in.