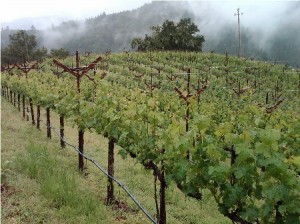 I am working on the release letter for our 2007 Baconbrook Cab now and it should start hitting your mailboxes in the next week or so.
This shows just how small our Baconbrook vineyard is AND that I still remember how to handcode HTML tables. Amazing.
Block
Variety
Clone
Rootstock
Acres
Rows
Vines
Vines/Acre
Spacing
Planted
1A
Cab Sauv
337
101-14
.44
47
736
1675
6.5×4
2001
1B
Cab Sauv
337
101-14
.47
36
789
1675
6.5×4
2001
2A
Cab Sauv
337
101-14
.52
35
876
1675
6.5×4
2001
2B
Cab Sauv
337
101-14
.60
32
1009
1675
6.5×4
2001
Totals
2.03
150
3410
I tasted our 03 and 04 vintages out of the barrel a couple of days ago and thought this would be a good opportunity to report how these vintages are shaping up for us. 2003 will be the last vintage when we produce only one wine as 2004 will see the debut of Baconbrook.

2003 Butterdragon Hill Cabernet Sauvignon (final blend)
03 was a head scratcher – it was really a story of two vintages. An extremely hot September caused the vines at the bottom portion of Butterdragon – where the soil is thinner – to start to shut down. We were losing a lot of grapes to dehydration. Dimpled grapes or "sad faces" were starting to predominate. It was either harvest or loose the crop so we brought in about ¼ of the vineyard earlier than anticipated. The rest we gambled that the weather would break and it would make it until we felt the grapes had reached full flavor ripeness.
That "early" lot made pretty good wine, but it never fit in with what we're trying to do at Match so we decided not to include it in the final blend. Fortunately, our gamble waiting to harvest the rest of the vineyard paid off and the September 2003 heat gave way to some perfect ripening weather in early October.
The final 2003 blend from Butterdragon – to be bottled September 2005 – is showing remarkable complexity with mature fruit, more earthy characteristics than our 02, and a touch of eucalyptus. The tannic structure indicates that this wine will probably require more patience to reveal it potential.
2004 was a great growing season, but as I'm starting to learn, abnormal is normal in farming. Everything moved up 3-4 weeks in 2004. Spring was early followed by an even, pleasant growing season culminating in hot weather during early September. Many vineyards, including ours, were ready for harvest of Cabernet Sauvignon in early to mid September. It's still so early, but it looks like 2004 will be a blockbuster year for us at Match.

2004 Butterdragon Hill Cabernet Sauvignon
Our 2004 wines have not yet been blended, so these are comments on the components that will eventually become our 2004 release.
Merlot – Of the 90 rows at Butterdragon, 3 of them are Merlot. 2002 gave us just a tad of Merlot. Those grapes were "field blended" – harvested and fermented in the same tank – as the Cab. In 2003 we got a bit more merlot, fermented separately, but ended up blending in with the Cab. We're really liking the way about 3% Merlot can soften and round out a Cab.
In 2004, we've again kept the Merlot separate up to now. It's a pretty wine, very floral and bright and would stand nicely on its own. Still, since we have so little of it, we currently plan to use most if not all in the final blend of our 2004 Butterdragon Hill Cabernet Sauvignon.
Cabernet Sauvignon (Clone 7) – Dark fruits, big mouthfeel, really big aromas of berries.
Cabernet Sauvignon (Clone 15) – Brighter fruit, more acidity than the Clone 7, more oak and tannin evident.
We're really excited about what the above three wines are going to do when they join forces to become our 2004 Match Butterdragon Hill Cabernet Sauvignon

2004 Baconbrook Cabernet Sauvignon
Ah the newcomer… but it's not arriving quietly. The 04 Baconbrook is going to be a monster. Ever time I try it, I like it more. The pieces are coming together wonderfully with incredibly complex dark fruits, leather, and a huge tannic structure for this 100% Cabernet Sauvignon. Cary Gott has described this wine as being more like Howell Mountain than its own appellation, Spring Mountain District. This is one of those wines that stains the glass and makes you brush your teeth afterwards. It may be a 20+ year wine.
I spoke with both Barbour Vineyards (Butterdragon Hill) and Pina Vineyard Management (Baconbrook) over the last couple of days. Both of our vineyards are doing well and have weathered the extremely rainy spring.
Baconbrook is in full flower now and looks to have a heavy crop. We'll have a better fruit estimate in a couple of weeks. The cover crop is extremely high and needs mowing again. Normally, we try to only have to mow once but all the wet weather has created a jungle of grass as well as vine growth. Pina will go through and spray to prevent mildew again this week. This is a follow up spraying to one they did about 10 days ago.
Butterdragon Hill does not look to have a especially large crop but the clusters seem to be forming well and uniformly across the vineyard. Barbour went through tying and tucking the canes up in to the trellis system. This practice will allow for more even sunlight getting to the flowers and vines. Some vineyards in the valley have had issues this year with capping where the flowers are supposed to shed their protective caps but the process is interrupted by the young flower clusters being wet. Barbour has seen no evidence of capping at Butterdragon.
We've also added a second set of drip lines down the rows at Butterdragon Hill. This addition will allow us to irrigate the bottom of the vineyard separately from the top which should improve quality overall and give us the ability to manage our irrigation more effectively. The soils at the bottom of the hill are thinner than towards the top meaning that they typically retain less water. In previous vintages, it was all or nothing regarding irrigation. Now, if the bottom needs irrigating, but the top doesn't, we can better pinpoint the need.
The 10 day forecast for St. Helena is for sunny days with highs in the upper 70's and lows around 50. Perfect growing weather!