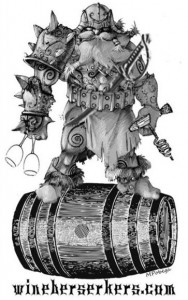 Wineberserkers.com will be exploring wines from the Loire Valley next week. Members will each try wines from this region and post their thoughts. It should be a good learning experience for me as I know virtually nothing about the Loire.
Here's what I bought on recommendation from Paul Marcus Wines (Oakland):
N.V. François Chidaine Montlouis-sur-Loire Brut $21
2004 Clos Rougeard (Foucault) Saumur-Champigny $45
2007 Domaine Deletang Montlouis-sur-Loire Sec Les Batisses $16
2008 Philippe Raimbault Sancerre "Apud Sariacum" $22
Why don't you stop in at Wineberserkers.com and pop a bottle from the Loire with us.