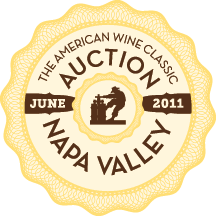 Today was the Barrel Auction portion of Auction Napa Valley, the Napa Vintners' humungous fund raiser for Napa Valley charities.  For those who don't know how it works, 100 vintners bring in barrels of future releases and offer samples to attendees.  Bidders place bids for a case of the future release.  The top 10 bids win.  Bids for cases of the big names rise up to the stratosphere but one can pick up some great deals on under-the-radar wines.  For example, bidder #10 on our wine picked up a case of our 2009 Butterdragon Hill for just $275!
Our winemaker, Cary Gott, was on hand to give me a break so I could try some other wines.  My overall impression was that the (mostly 2009 vintage) Cabs on display were more tannic and exhibited more structure than the 2008s we tried last year.  However, the tannins were smooth and elegant.  At least for some wines, it could be a long lived vintage.  It seems to be a year in which conservatism was rewarded with more sophisticated, structured wines while those that went for a more modern, ripe style tended to end up with more nondescript wines.  The complexity in their power that they were shooting for never materialized.  In particular, I tried several wines from the famed ToKalon vineyard.  While ripe, these wines in general exhibited a lot of fruit and little structure.  Not to say that one won't enjoy them.  You might.  But cellar aging and food pairing might be a challenge.
As is my custom, the wines I mention are wines that are recommended to at least some degree.  The number of asterisks indicates the strength of my recommendation.
2009 Crocker & Starr Cabernet Sauvignon – **** a pleasurable balancing act between a more classically styled Cabernet and modern.
2010 Madonna Pinot Noir – ** a non Cabernet based wine is a rarity at the Napa Auction. This wine shows a lot more richness than their 2009 with a lovely, "cute" nose of fresh berries still in the berry patch.  California style, but not over-the-top from this Los Carneros producer.
2009 Meander Cabernet Sauvignon Morisoli Vineyard – *** enticing mint aromas with flavors of plum, tea leaves, and notes of dill.  If she can keep vineyard sources as good as this, Amy Aiken (daughter of Joel Aiken of BV fame) is one to watch with this winery.
2009 Merryvale Profile – *** Excellent with round, sweet mouthfeel, char grill, wood smoke, cassis
2009 Merus – * Rich, bold attack but thins in middle and finish.  Less tannins than some of the peers tasted today.
2009 Mi Sueno Cabernet Sauvignon – **** Sweet candy nose but sophisticated and elegant in the mouth.  Smooth, well integrated tanins and a surprising mint finish.  I'm a big fan of this winery.
2009 Napa Smith Winery Cabernet Sauvignon

2009 Nickel & Nickel Cabernet Sauvignon Branding Iron Vineyard – * firm, smooth, but significant tannins frame a bright cherry wine

2009 Oakville Ranch Vineyards Cabernet Sauvignon
2010 Oakville Terraces Cabernet Sauvignon – **** Perhaps the most exotic wine of the day.  They're cheating a bit showing something fromt the awesome 2010 vintage.  Fresh and young as expected but has alluring undertones of licorice, eucalyptus, and road tar.  My surprise discovery.
2009 Oberon Cabernet Sauvignon Hillside Reserve, Three Elevations – ** Backward, but balanced.  Dry, dusty finish.  The jury is out on this one.
2009 O'Shaughnessy Cabernet Sauvignon – nice enough, but their 2008 which was my highlight from last year was much better.
2009 Paradigm Cabernet Sauvignon
2009 Paraduxx Blend Coferment– I got a long spiel on how they ferment some Viognier with this wine.  The wine was okay, but I didn't perceive any special element.
2008 Promise Cabernet Sauvignon – ** Nicely integrated but shows its 3 years in new oak.  Necessary?  Probably not.
2009 Raymond Cabernet Sauvignon – *** a special blend of the auction but basically their Generations blend, I liked this wine a lot.
2009 Realm Bordeaux Blend – ** Fans of big, bold, rich Napa Cab will be pleased with this wine