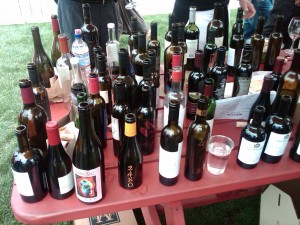 Wine Spectator magazine sponsors a magnum party at a local restaurant each year as the first big soiree of Auction Napa Valley.  This event is by invitation only.  Don't ask me how to get a ticket.  I've never gotten one.
However, there's great fun to be had at the unofficial, informal kickoff party — the 1/2 bottle party at Gott's Roadside (until recently called Taylor's Refresher).  Open to the public, folks bring a 1/2 bottle to share, order (and pay for) their own food, and then make merry on the lawn at Taylor's [damn] Gott's.  Glasses are provided if you get there early enough.  (They tend to run out.)  This year's party was yesterday at noon.
Pictured is the picnic table early in the party.  A lot more bottles showed up.  You're only supposed to bring a 1/2 bottle but some folks cheat just a bit.  Arkenstone winery, apparently without a split, placed a 750ml on the table but labeled it "Half Bottle" just to be safe.
I didn't write tasting notes and certainly didn't get around to trying even a large percentage of the wines, but here's a few that I tried and liked:
2008 Arkenstone Sauvignon Blanc Howell Mountain – tart, crisp, light, pineapple
2006 Ladera Cabernet Sauvignon Napa Valley – cherry, tar, tight and tannic
2007 Gemstone Facets – round, cassis, dark chocolate
2007 Fantesca Cabernet Sauvignon – bright cherry, lighter and more nimble than the Facets
2007 Abiouness Pinot Noir Carneros Stanly Ranch – charming, sweet round mouthfilling flavors
2008 Spellbound Chardonnay – California styled but not huge
2006 De La Guerra Chardonnay – full throttle, buttery, Cali Chard
2006 Spring Mountain Cabernet Sauvignon Napa Valley – elegant currant and pine, perhaps the best wine I tried this day
I brought both of our 07's, Butterdragon Hill and unreleased Baconbrook, in 375ml format.  Although I didn't try them today, I'm told they were good. 😉