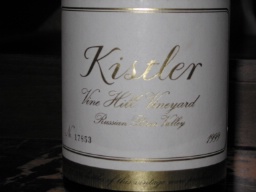 I know we're lucky here in California, particularly in Northern California and wine country, when it comes to being able to bring wine to a restaurant. Many folks in other parts of the country can only dream of being able to legally do this. Although it's not unusual for a corkage fee to be waived, particularly if one also buys wine from the restaurant's list, typically the charge ranges from $15 per bottle to $50, usually towards the lower end of that scale. So the other night, we're at a local Oakland place that I like to support. It's near our house and the food is excellent. BUT, the wine service was terrible on this night. The waiter popped the corks on some really good bottles, brought the cheapest, smallest stemware, did not have a decanter available for our red wine, and waited too long to bring out an ice bucket for our white. [Sigh.] Corkage was $20 per bottle. I was none too pleased paying $40 basically for the waiter to use a cork screw and for them to stick a few glasses in a dishwasher. I've been there before and received excellent wine service on my brought bottles, so I will give them one more chance. Still…
If you're going to charge me corkage, give me good wine service.
1997 Oakford Vineyards Cabernet Sauvignon – USA, California, Napa Valley, Oakville (9/3/2009)
Brooding and dark with moist earth, tobacco, and some sour blackberry. Unlike a few recent tasters, I think this wine has past its prime. While still showing significant tannins, I don't think the fruit balance is there for longer aging. Could perhaps have benefited from a vigorous decant which unfortunately wasn't available with mediocre BYOB wine service at a local restaurant. (86 pts.)
1996 Kistler Chardonnay Vine Hill Vineyard – USA, California, Sonoma County, Russian River Valley (9/3/2009)
Deep gold color and huge nut and butterscotch nose. Butterscotch and caramel flavors predominate with honey-lemon tea undertones. This wine suffered from rather indifferent wine service at BYOB local restaurant. The requested ice-bucket never arrived. Not rated as I don't think we were able to see this bottle at its best. Still, I love Kistlers with some age!
Posted from CellarTracker