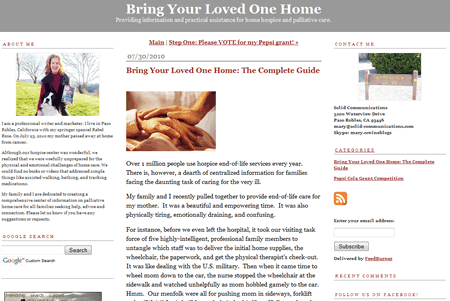 Mary Baker is a writer and marketer whom I know from wine blogs.  Last year she and her family needed to provide end-of-life care for her mother.  According to Mary, "It was a beautiful and empowering time.  It was also physically tiring, emotionally draining, and confusing."  Mary recognized a need for an online forum where families can share information and resources with others who are facing (or have faced) similar situations.
She has applied for a Pepsi Refresh Project grant of $5000 to pay for site development and get it off the ground.  Please go to the Pepsi Refresh Project site and vote for her idea so she will be able to compete this important resource for families. You can vote once each day, every day in June.
Bring Your Loved One Home – Providing information and practical assistance for home hospice and palliative care.