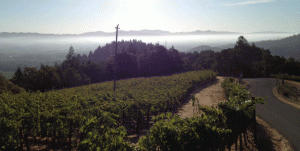 If you're on our mailing list, you should have received this via email. Repeat customers should have also received a coupon code.  If not, let us know.
Here is my brilliant prose from the email:
Summer is over.  Alec is off for his second year of college and Sasha and Randy (in a bout of empty-nester syndrome) had a baby.  A four-legged baby that is.  Alec and Odie now have a 13 week old baby "brother."  Charlie is an adorable little fuzzy maltipoo.  We won't bore you with pictures in this email.
In between middle-of-the-night trips carrying the puppy to the backyard, our thoughts are starting to turn to harvest.  It has been a terrific growing season in the Napa Valley and the crop at both of our vineyards is looking great.  Baconbrook should be ready in just a couple of weeks and Butterdragon will follow a week or two after.
But before we start getting our hands dirty in the vineyard and winery, it's time to release some wine.  We are extremely excited to debut the 2009 Baconbrook Cabernet Sauvignon.
2009 marked the return to normalcy — if any year is normal in farming — after a challenging and low production 2008.  Mild temperatures and little rain throughout the Spring and early Summer had everything looking good and moving at a comfortably slow pace.  It warmed up just-in-time for veraison and the clusters colored quickly and evenly.  Continued mild weather throughout August and September gave the fruit plenty of time to get ripe.  Baconbrook, always the first ready to harvest, came in on September 23rd.  Butterdragon Hill continued its slow maturation into October until late season rains followed by cooler weather caused a more urgent ending to what had been a fairly mellow year.  We harvested Butterdragon in two picks on October 7th and October 21st.
Vintner's Notes
Still very young, this wine already offers a delicious blend of cherry and raspberry flavors with currant, milk chocolate, crushed tea leaves, and sweet oak. Bold, with an extremely long finish, its polished, sweet tannins and focused acidity promise even greater days ahead. We're incredibly proud of our 120 cases of 2009 Baconbrook.
Pricing for Baconbrook remains unchanged.
750ml bottles – $66
1.5L magnum bottles – $138
375ml bottles – $34
We pay for ground shipping on orders of $400 or more.
Orders of any size shipped to residential address will incur a $5/box surcharge assessed by the common carrier.
Shipping should begin in mid to late October but we will hold your order until cool temperatures allow safe shipping.
Did you hear the news about our 2002 Butterdragon Hill?
In a recent blind tasting retrospective of the 2002 vintage, Wine Spectator magazine rated it among the top wines of the Napa Valley and said "this remains a voluptuous mouthful of Cabernet, even better with age.  Ripe, supple and plush, with tiers of plum, black cherry and dark berry flavors, this fairly glides along the finish, ending with melted black licorice, road tar, and mocha notes, turning to dark berry themes. (94 points)"
We only made 500 cases but did hold a few cases back to be available to you now.  For a wonderfully aged wine that rates among the top Napa Valley wines of the vintage, order here.
Thank you so much for allowing our wines to be part of your family's table.
Warmly,
The Match Vineyards Family